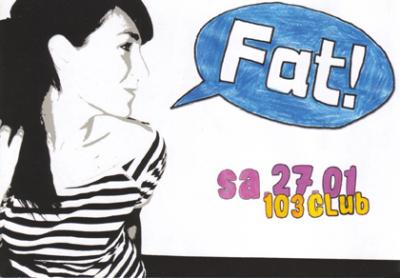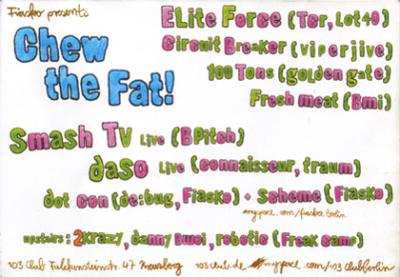 Chew the FAT!
returns to its new home, the
103 Club
in 2007 on Sat 27th January. Giving you just enough time to recover from NYE and stop giving a shit about breaking youre new years resolution of not drinking or smoking for a week Smile.
I guess the breaks line up doesnt need explaining for you breaksheads out there...Elite Force...nuff said. But for those who dont know the acts in room 2, expect great stuff from the two techno live acts. Smash and dasos productions are reknown for their sweepy synthy soundscapes punctuated by heavy basslines and clicky snares. And upstairs we have the Freakcamp crew making the sofas vibrate with some heavy dubsounds.
Room 1:
ELITE FORCE (TCR, LOT49)
,
CIRCUIT BREAKER
(Viperjive),
100 TONS
(Golden Gate),
FRESH MEAT
(BMI)
Room 2:
SMASH TV live (Bpitch Control)
,
DASO live
(Connaisseur, Traum),
DOT CON & SCHEME
(De:bug, Fiasko)
Upstairs:
Dubstep hosted by
2KRAZY, DANNY BWOY, ROBOTIC (Freak Camp)
Interview mit Con & Chris von Chew The Fat! Berlin / Fiasko auf
www.nuskoolbreaks.net
---->
Lesen hier!
Miss Glitter - 19. Jan, 10:44